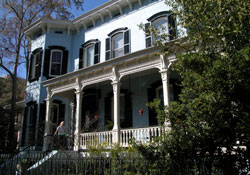 Situated in the Landmark Historic District, The Senator's Gate Bed and Breakfast inn of Savannah, Georgia is a beautifully restored Italianate Victorian mansion built for Rufus Ezekiel Lester in 1885. R. E. Lester had been a confederate soldier, State Senator, Mayor of Savannah, and U.S. Congressman from Georgia during his 36 plus years of public service.
His home on East Hall Street, 226 East Hall, was built while Rufus was Mayor of Savannah and reflects the position and wealth he commanded at that time. The home cost $9,000.00 to build (in 1885 dollars--multiply by about a thousand for present cost) and used craftsmen from Savannah and from the North.

The Inn will be closed until January 1 2007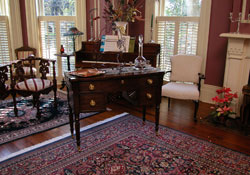 Distinctive to the home are spacious wood porches front and rear, comfortable rooms that catch the light from all sides, and copious garden spaces under the massive large live oaks.
The Senator's Gate is also a luxurious home--owner-occupied by Sheila and Mel Mrochinski, relative newcomers to Savannah who also enjoy good food and meeting interesting people.
*clicking on a picture will open up a larger version*